14 ft HVLS Ceiling Fan 133,900CFM PMSM Commercial Large Cooling Fans
Product Detail
Product Tags
Do you want to make the occupants more comfortable and save your money? We will provide you the coolest solution-commercial cooling fans for commercial places, such as the office, restaurants, theaters and so on.
Our commercial ceiling fan can circulates massive volumes of air gently and quietly to make customers comfortable and happy, and also keep the employees healthy and more productive.
With high ceilings and abundant square footage, large industrial facilities such as gym or sport center face airflow and ventilation challenges. Cooling and heating large wide range spaces is a challenge because cooling or heating the air can cost a fortune in HVAC equipment and operating costs.
| | |
| --- | --- |
| Model |  NV-BLDC14 |
| Diameter | 14FT  |
| Air volume | 133931CFM |
| Max Speed | 80RPM |
| Coverage  |  4843sq.ft |
| Weight  | 90lb |
| Motor type  | PMSM Motor |
| Fan type | Industrial, Commercial, Agricultural |
| Limited warranty years | 1 (Lifetime on Airfoils) |
| Blade Material |  Aluminum Alloy |
| Mount type | Ceiling  |
| Voltage | 208-240V |
| Fan Watts | 400W |
| Phase |  1P |
| Number of Speeds | Variable |
| Fan Housing Color | Black |
| Fan Blade Color | Gray |
| Number of Blades | 6 |
| Noise | 35dBA |
| Environmental Applications | Industrial,commercial,gym |
| | Navigator |
Reasons for choosing OPT commercial PMSM ceiling cooling fans
1.Creating comfort working environment: With its133900CFM air volume,  high-volume, low-speed fans is the quite effective HVLS big commercial fans for commercial spaces. The circulating air is gentle and can make customers feel comfortable and improve your employees' health.
2.Reduce cost consumption: With 0.4kw fan power, the big commercial ceiling fans is a cost-effective solution that could help your commercial facility keep cooling bills under control.
Official place such as the shopping mall can benefit from a commercial fan
1.Installing a big commercial ceiling fan, your employees will feel more comfortable and then they will become more productive.
2.Your customers will return to your store more frequency if they feel comfortable. And the low speed and quiet noise are good for them to stay.
3.Shopping mall is difficult to cool, as it has a large open space. In summer, the unbearable heat lead to the cooling bills increasing quickly. While the large air movement capacity of our large commercial ceiling fans could solve these problems effectively and reduce the electrical cost.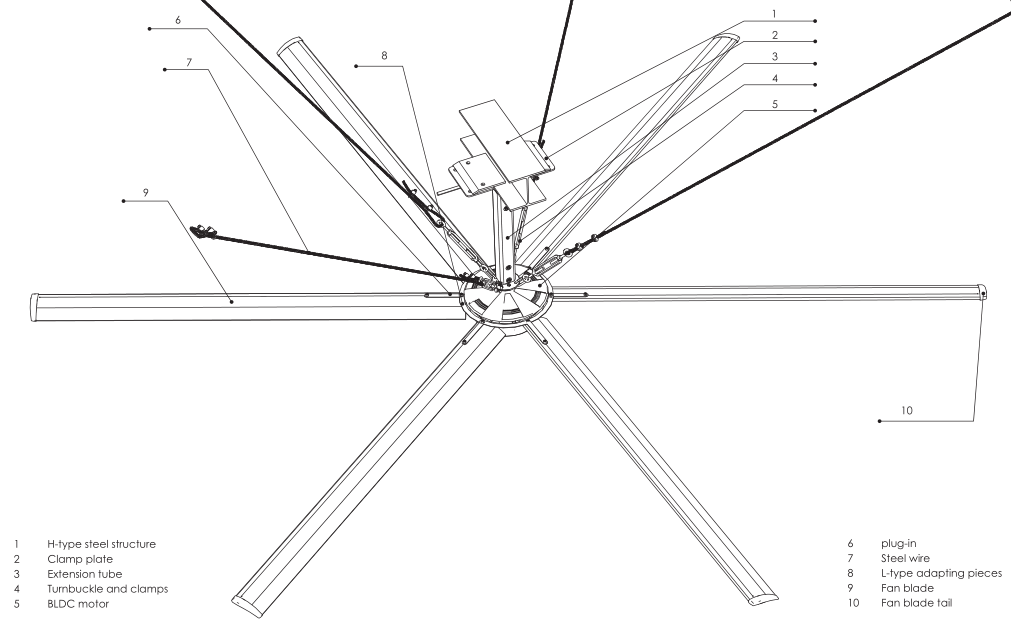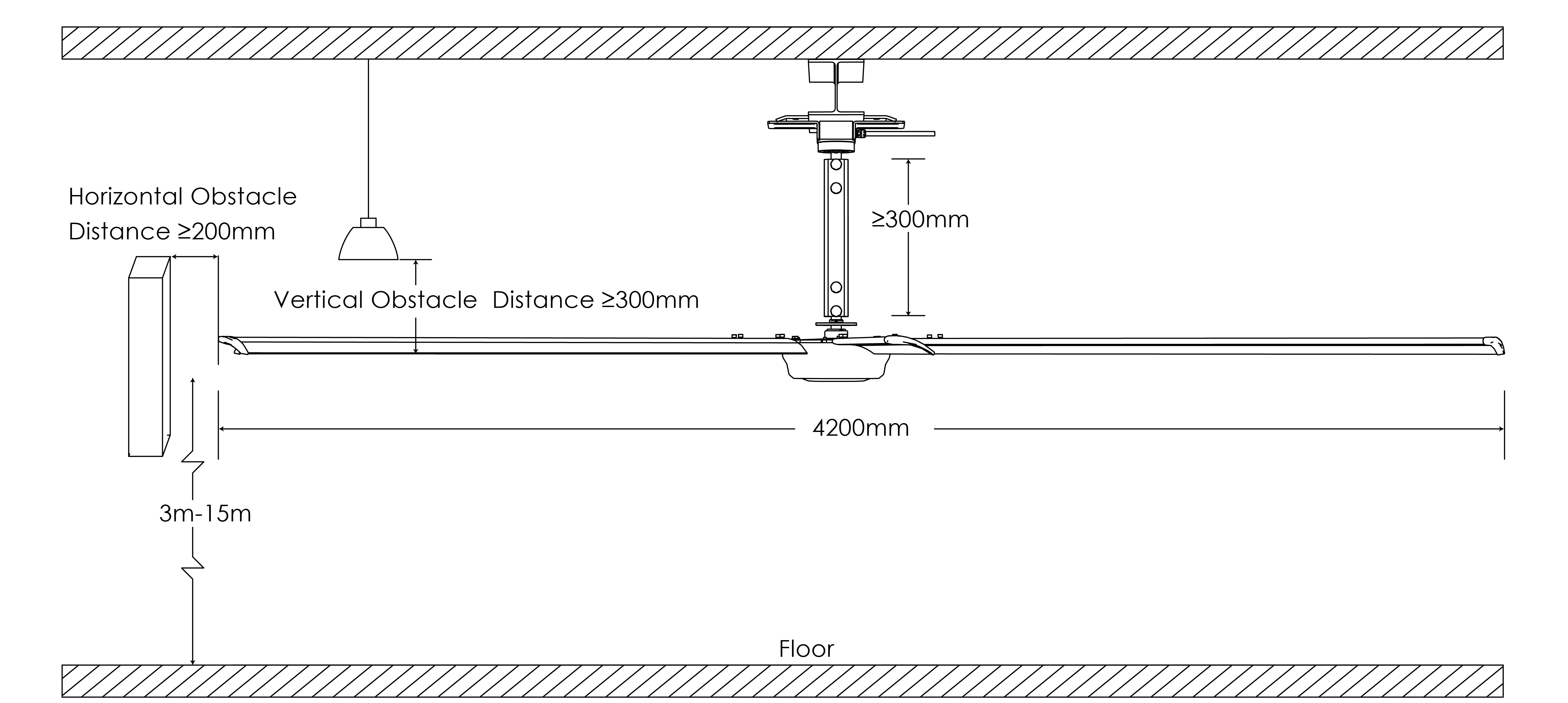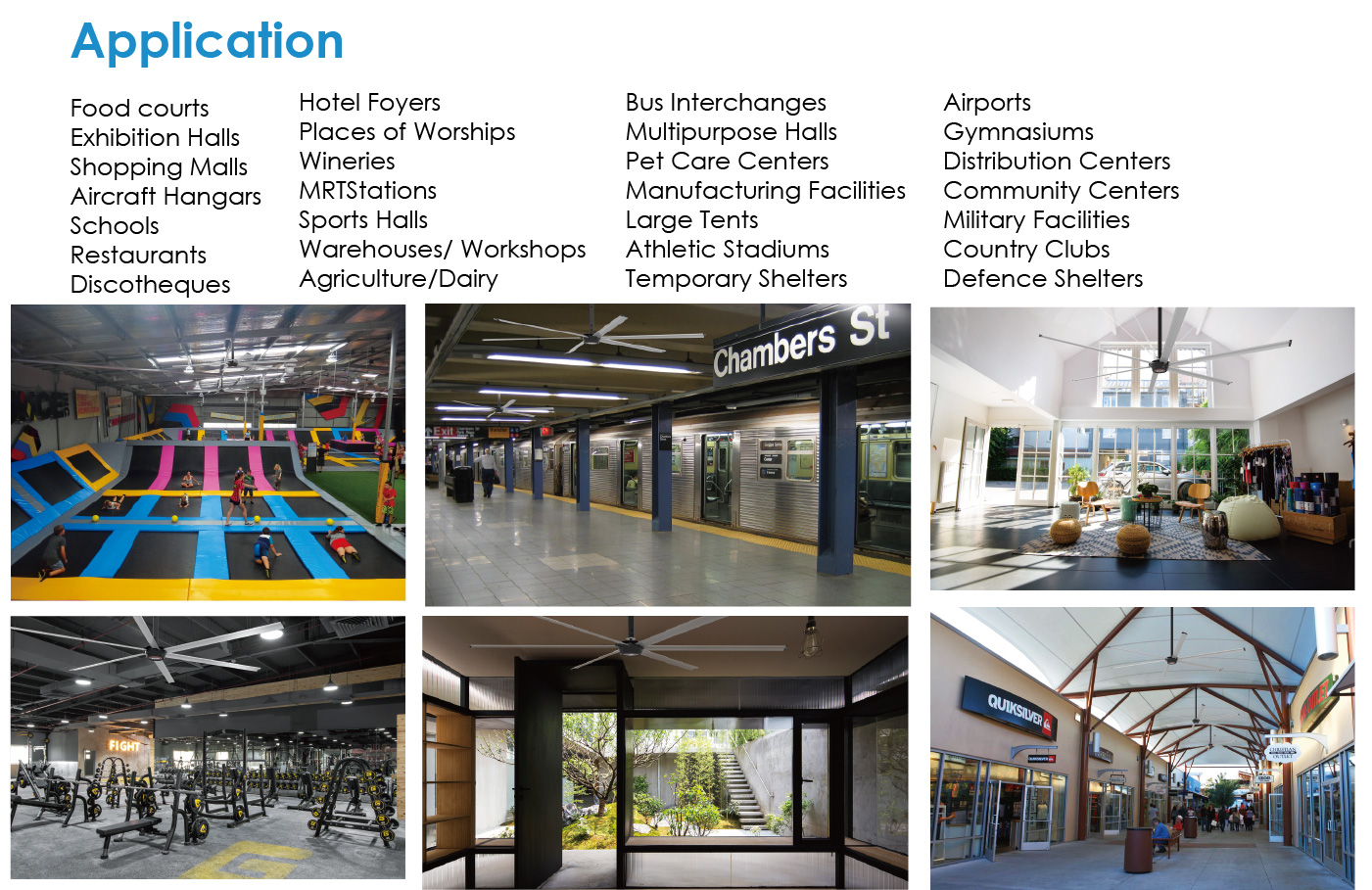 ---
---
Write your message here and send it to us